Journey to Antarctica: The White Continent
on National Geographic Endurance
Journey to Antarctica: The White Continent
Be in Antarctica this season!
Active, immersive expedition travel
Explore Antarctica in expedition style, aboard an authentic expedition ship is an incomparable experience and your guarantee of an in-depth encounter with all its wonders. Lindblad Expedition's pioneering polar heritage and 50 years of experience navigating polar geographies is your assurance of safe passage in
...
Adventure and Active
Gardens, Foliage, and Nature
Safari, Animals, and Wildlife
About National Geographic Endurance
About Lindblad Expeditions

Going where awesome is for 50 years
Lindblad Expeditions goes to the most amazing places on the planet—40+ geographies in all. And they've planted a flag in many of them, deeply committing to remote wild places—like South Georgia and the Falklands; Patagonia, where they opened up Staten Island, 'the island at the end of the world,' for eco-tourism; and remote and beautiful regions of Polynesia, including the Marquesas Islands where few go.
Teams that do whatever it take
...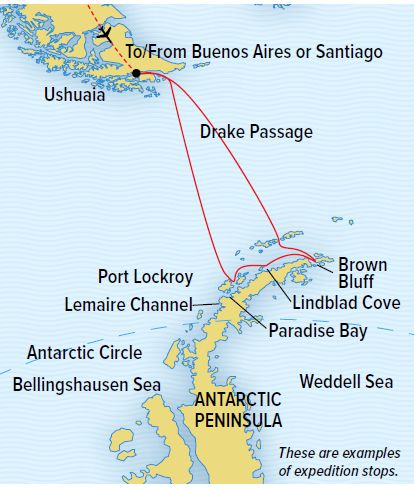 Day
Destination
1-2
U.S./Buenos Aires, Argentina (Explorer) or Santiago (Orion)
3
Fly to Ushuaia, Argentina/Embark
4
At Sea/Drake Passage
5-10
Exploring Antarctica
11-12
At Sea
13-14
Disembark Ushuaia/Fly to Buenos Aires (Explorer) or Santiago (Orion)/Home